The new version of Internet Download Manager 5.11 has been released. This version adds a completely redeveloped scheduler that can be used for downloading and file synchronization. The previous version of scheduler was developed and included to IDM more than 5 years ago (version 3.02 released in January 2002). All recent customer requirements and demands were analyzed during the development of the new scheduler. The new scheduler has been created to be very flexible, multi-purpose, convenient, and easy to use at the same time.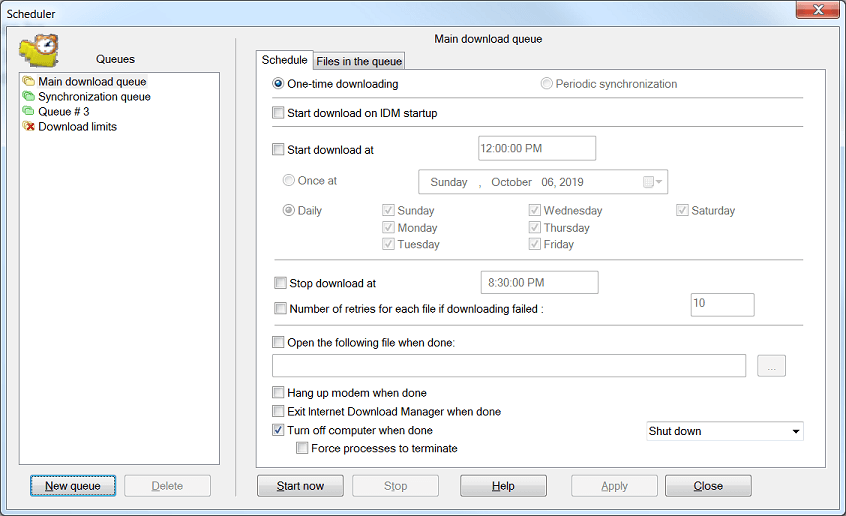 The new scheduler adds periodic synchronization of files and the possibility to create new queues for downloading or synchronization, it also adds new features on starting and stopping queue processing.
IDM has 2 main queues: download queue and synchronization queue. Also you can create any number of additional queues.
When you add a new file to download, IDM adds it to the main download queue by default, and IDM deletes the file form the download queue when its download is complete.
When IDM is processing a synchronization queue, IDM checks if the files in the queue have been changed on the server, and if changed, it will download new files and replace old on new ones. All files will stay in the queue after synchronization.
You can move or add files from one queue to another.
You can schedule the start and the stop times of download/synchronization queues, or you can start and stop download queues manually. The main IDM list of downloads has "Q" column that shows which queue downloads belong to.

The icon with three yellow files means that the download belongs to the main download queue, three green files icon stands for the main synchronization queue. The icon with two yellow and the icon with two green files show that the download belongs to an additional download queue and an additional synchronization queue correspondingly. If a queue is scheduled for the start, then its icon has a small clock sign.
The categories field of the main IDM window has "Queues" node that shows the list of queues.

When you select a queue in the list, the main IDM list of downloads shows only the files that belong to the selected queue. The queues in this list have a simple and convenient context menu.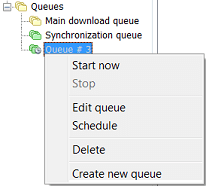 To display context menu you can either right click on the queue, or select the queue and press context menu button on the keyboard. When IDM queue is started, IDM downloads one or several files from the queue at the same time. The number of files to download at the same time can be set for each queue individually on "Scheduler→Files in the queue" tab.
You can read about how to use the new scheduler in its new help file