IDM integration into Edge does not work. What should I do?
IDM download panel is not shown for videos in Edge browser. What should I do?
I cannot download videos from some web site in Edge browser. What should I do?
Please make sure that you have installed the latest version of IDM.
You need to enable integration into Edge browser in "Options→General" IDM dialog (arrow 1 on the image). Please also note that IDM can work with this browser only if you enable "Use advanced browser integration" option dialog (arrow 2 on the image).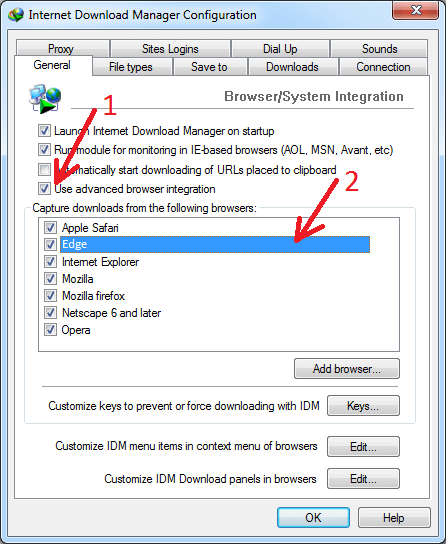 If IDM shows some error message when you try to enable advanced browser integration, please click to read instruction in such case.
Also you must install IDM browser extension for Microsoft Edge. Please click to read how to add "IDM Integration module" extension to Microsoft Edge browser.
If after following all instructions above IDM browser integration in Edge still does not work, maybe there is a conflict with some other browser extension or standalone application (click for details).