Manual installation of IDM plugin for FireFox and other Mozilla based browsers.
If our add-on is not available in FireFox or other Mozilla based browser, you may need to install it manually. Press FireFox options button (arrow 1 on the image) and then on "Add-ons" menu item (arrow 2 on the image).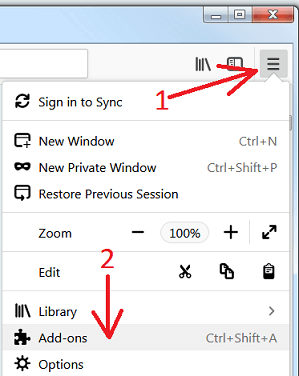 "Add-ons Manager" window should open. Click on "Extensions" tab (arrow 1 on the image). Then press on "Tools for all add-ons" cogwheel (arrow 2 on the image), and pick "Install Add-on from File..." (arrow 3 on the image) menu item.

Then open IDM folder where you installed IDM ("C:\Program Files (x86)\Internet Download Manager\" by default).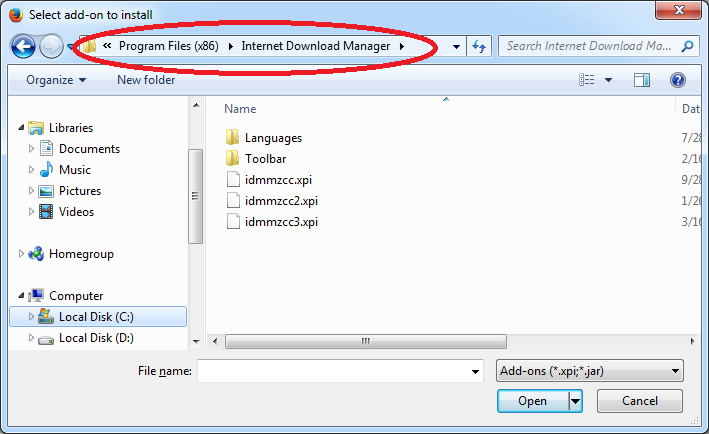 Here you have 3 XPI files. They have the same name, but a different number at the end. Select appropriate add-on for your browser basing on FireFox version that is used in it. Please look carefully at the following:
Select idmmzcc3.xpi for FireFox 53 and newer versions.
Select idmmzcc2.xpi for FireFox browsers from version 27 to version 52 inclusively.
Select idmmzcc.xpi (without a number) for FireFox versions from 1.5 to 26.
If you do not know on which version of FireFox is based your browser, try to install all these add-ons one by one.
If you selected the right version, the FireFox would show a dialog confirming setup. Depending on the version of your browser, you can see the following dialog where you need to press on "Install" button: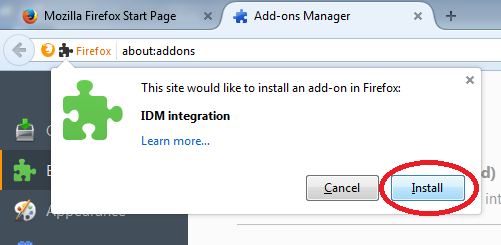 or the following dialog where you need to press on "Add" button: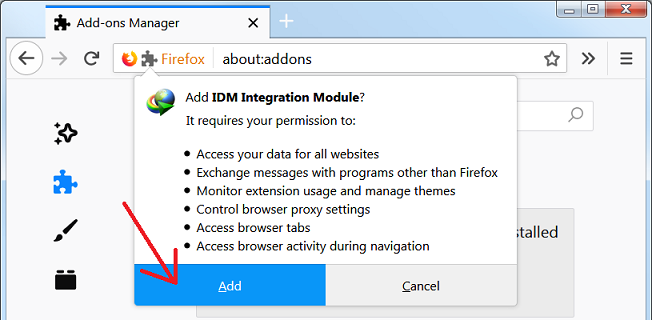 If you selected an incorrect version of XPI file, FireFox would show an error message.
Please read here how to check your version of FireFox if you do not know it.