Please note that IDM has stopped supporting Windows Vista. The latest version supporting Windows Vista is version 6.41 build 6 from Dec 3, 2022.
We tested IDM with Window Vista beta as well as with Vista RC1 earlier, and we were revising the code to fully support those operating systems since IDM version 5.05. Although IDM 5.08 worked fine with Window Vista RC1, we still waited eagerly for the official release and the start of Window Vista sales.
Recently we have received the full suite of new operating systems: Windows Vista Starter, Windows Home Basic, Windows Home Basic N, Windows Vista Home Premium, Windows Vista Business, Windows Vista Business N, Windows Vista Enterprise, and Windows Vista Ultimate.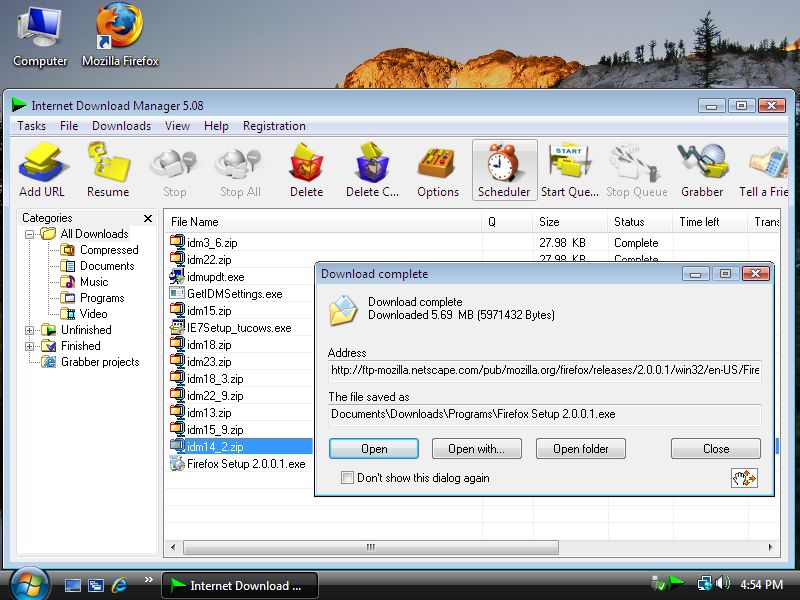 For IDM testing we have a large set of tests that includes the following:
Automatic capturing of more than 20 types of downloads from all popular browsers including Internet Explorer 7, FireFox (2.0 and 1.5), Opera, AOL, Netscape, Mozilla and others. This test is carried out with both advanced and basic types of IDM integration.
Downloading from IE7 and Mozilla based browsers (FireFox etc.) by using "Download with IDM" and "Download all links with IDM" context menu.
Running IDM site grabber on several types of web sites
Downloading and assembling of large files (more than 4.7GB)
Using scheduler
Downloading with dial up, adsl and cable connection
Automatic redialing for lost connections
Downloading from command line
For every operating system from Vista family we have carried out the full set of tests. Also all tests were performed with the Vista specific "User Account Control" turned on and off. All download tests from IE7 were performed with "Protectd mode" turned on and off.
We have done a great job to improve your IDM experience. And we can officially inform you that IDM has passed all Vista tests successfully.