Congratulations to you on installing Internet Download Manager (IDM)! IDM is the best choice for people who download from the Internet frequently.
How to use IDM
You can download all the flash embedded videos from almost any site with a single button click. Yes, the flash videos are literally a click away.
IDM integrates into most popular browsers during installation, and after restarting your browser, it monitors internet links and takes over downloads from the browser automatically or shows "Download This Video" button pops up whenever you are watching a video anywhere in cyberspace (shown in the picture below).
You need to start playing the video in your browser (arrow 1 on the image). Then IDM will show video download panel and offer you to download this video. Click on this panel to start downloading (arrow 2 on the image). IDM all will offer you all video formats and qualities that are available for the video. It's as simple as that; you do not have to separately launch Internet Download Manager. What's more, you can choose to download a clip at any point during the video, and the scene will be captured from the start. The download will proceed in the background even if you pause or stop watching. And you can download more than one video at the same time.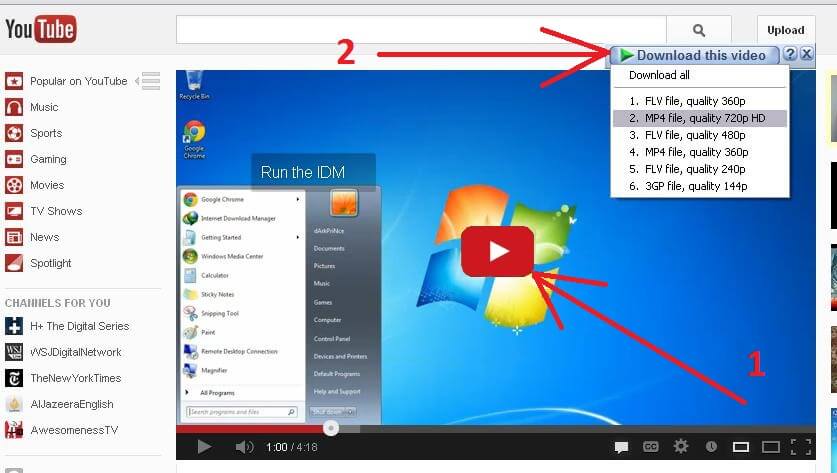 Read what to do if IDM does not show video download panel.
If IDM has taken over a download, it shows the following starting dialog

Here you can change the path to save file and download the file immediately, or press "Download later" button to add the file to main download queue. Then you can start the queue manually, or schedule its start with a convenient scheduler. You can move files between queues and create new queues.
If IDM does not detect your downloads or does not show video download panel, you may need to fix IDM integration into your browser.
Please note that all elements of IDM main window have context menu. You can customize IDM toolbar, change its buttons and skin, you can customize columns of the list of downloads, add new categories, and etc.
IDM has an advanced web site grabber to download complete web sites for offline browsing or to download parts of web sites, for example all pictures or videos from a web site. The tasks for Internet grabber are created with a convenient and easy to use wizard.
If you have any questions how to use IDM, please refer to IDM help files by picking "Help→[Index, Tutorials, Grabber help, Scheduler and Queues]" IDM menu items, or refer to frequently asked questions on IDM web site.