IDM integrates into browser right click menu of all popular browsers: Chrome, FireFox, Edge, Opera, IE
1. Download a specific link from an HTML page.
If you right click on a link in your browser, you will see "Download with IDM" menu item. Just pick this item to start downloading the link with IDM.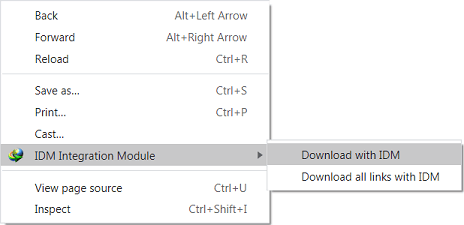 This way of downloading files is useful if IDM couldn't take over the download automatically.
2. Download several files from an HTML page.
You can download several files from an html page. IDM can import all or selected downloads linked to a web page to the main download list. Just click with right mouse button on the web page and select "Download all links with IDM" or "Download selected links with IDM" in browser pop-up menu. See below: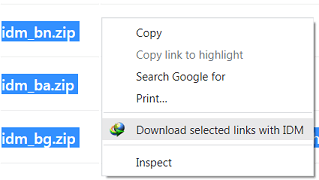 After picking "Download All Links with IDM" menu item on any place of the page, IDM displays a dialog to import downloads from this page. See below: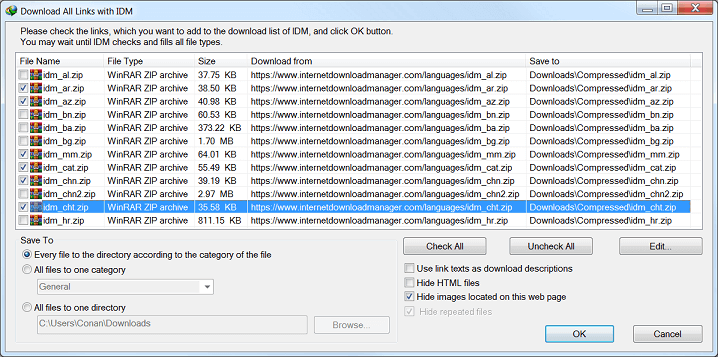 At the same time IDM starts checking all downloads to find out file sizes and types. You may wait until IDM finishes, and shows its final results.
Then check the boxes for the files that you need to download with IDM. You can use "Hide HTML files" checkbox to filter html pages, and "Check All", "Uncheck All" buttons to check all, or uncheck all downloads. See below:
You can select a download and press on edit button to change download location, description, save path, file name, and other attributes.
Having selected and edited downloads, click on "OK" button to add them to the main download list of Internet Download Manager. IDM also adds these downloads to the download queue. You can start downloads by selecting them, and by clicking on resume button, or you can start all downloads by picking "Downloads→Start Queue" menu item.

If you had other files in the queue, you can move imported downloads to the top of the queue. Click on "Scheduler" button, select necessary downloads using Ctrl or Shift keys with mouse clicks, and move selected downloads up using up arrow button.