Downloading with IDM in automatic mode
This method to start downloads is the easiest one. IDM takes over downloads from Internet Explorer, MSN Explorer, AOL, Opera, Mozilla and Netscape browsers, and starts downloading files automatically when users click on download links.
If you click on a download link in Internet Explorer or in another browser, IDM will take over and accelerate this download. In this case you don't need to do anything special, just browse the Internet as you usually do. IDM takes over a download from Internet Explorer if its type matches the list of types/extensions. The list of file types/extensions to download with IDM can be edited in "Options→General" IDM dialog. If IDM has taken over a download, it shows the following dialog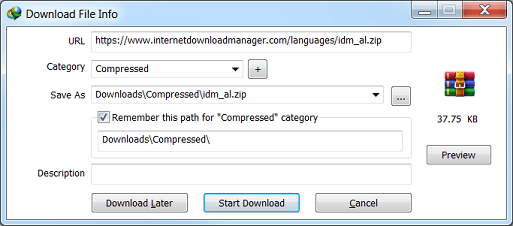 If you click on "Download Later" button, URL (web address) will be added to the list of downloads, but the download process doesn't start. If you click on "Start Download" button, IDM will start downloading the file immediately. IDM lets you associate your downloads with IDM categories. IDM suggests the category and the default download directory according to file type. You may edit categories, delete and add new categories in the main IDM window. If you want to see the contents of a zip file before downloading, you may click on "Preview" button.
IDM will take over any download if you hold down the Ctrl key while clicking on its download link in your browser. You can select another key or key combination. To do this open "Options→General" IDM dialog and press "Keys" button. On a new dialog enable "Use the following key(s) to enable downloading..." option and select key combination.
If you hold down the Alt key while clicking on a download link, IDM will not take over the download and let yout browser to download the file. You can select another key or key combination for this action as well
If you don't want IDM to take over any downloads from a browser, turn off the browser integration in IDM options. After turning off or on the browser integration in "IDM Optionss→General", don't forget to restart the browser.
Remember if Internet Download Manager had problems downloading file, you should press Alt while clicking on a link to let the browser process the download.